D I S A S T E R R E L I E F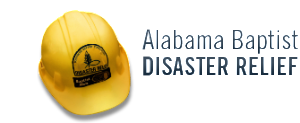 The focus of this hard-working group of men and women is to not only help the people with their physical needs, but also to take opportunities, as they may arise, to share the Good News.
You can be trained to help in various areas from mud-out and recovery, to chainsaw, etc. Contact Steve Brooks at 251-424-0842 to learn more about this important team.
For training's visit https://sbdr.org/ to see when upcoming trainings reach our area.