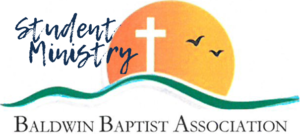 JULY 2023
To be Announced
AUGUST 4-6, 2023
A weekend retreat at Camp Baldwin designed to get kids ready to be a light at their school!
Worship at the Beach – 6:00 p.m. – 7:45 p.m.
A Youth service at the State Park Beach Pavilion in Gulf Shores!
Icelandic New Years – 5:00 p.m. until 7:30 p.m.
Fireworks, bonfires, smores, hotdogs and music.
A night of fun for our students!
MONTHLY YOUTH PASTOR MEETS:
Youth Pastor Meetings every last Tuesday of the month.
MORE INFORMATION:
Chancellor of the BBYP's: dakota@obcommunity.org
BBA Office: (251)945-5112 or
office@baldwinbaptist.com
MIDTERM YOUTH PASTOR MEETS:
In the evenings every quarter in the middle of the month.